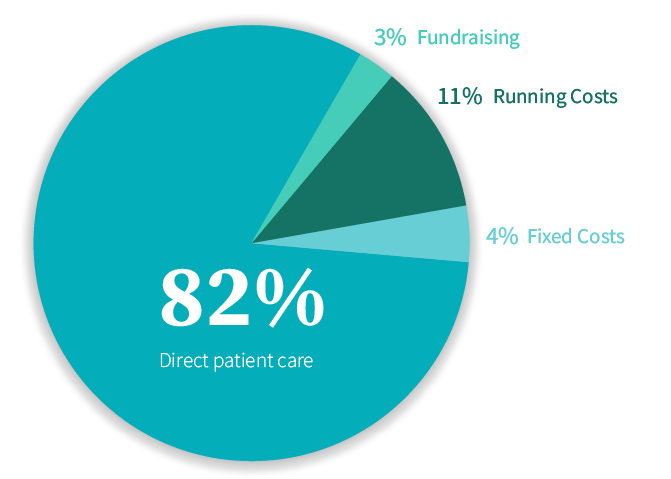 There are many ways that you can help the Canterbury Charity Hospital to continue to provide its free services to the people of Canterbury and the West Coast by making a donation, becoming a volunteer, attending our events or leaving a gift in your will.
For every $ donated,
82 cents goes directly to patient care
It costs over $1 million a year to run the Canterbury Charity Hospital and we rely almost entirely on donations from the public. 
We are very grateful for every donation as, no matter how big or small, you help us continue to help people in the Canterbury region who would otherwise not receive their treatment. 
Our bank account number is 02 0800 0190893 00.
There are several ways you can donate to the Charity Hospital. 
One-off Payment
Our bank account number is 02 0800 0190893 00. Please include your Donor Number in the particulars section when you are making a donation so it makes it easier for us to send you a receipt.  If you don't have a Donor Number please email rosie@ccht.org.nz with the date, name, address and amount so we can send you a receipt.
Regular Giving
Regular gifts are vital to the Canterbury Charity Hospital Trust as they allow us to plan for the future, safe in the knowledge that funding is secure. Even small regular donations quickly add up to significant contributions. Regular giving helps us reduce administration costs and assists us with long term planning.
You can set up a regular donation through internet banking. Our bank account number is 02 0800 0190893 00. Please include your name and address. A tax receipt will be automatically sent to you at the end of the financial year.
Online
You can donate directly through this website by credit or debit card.
Donate Now
By Post
Complete this form and post it to Canterbury Charity Hospital
PO Box 20-049 Bishopdale
Christchurch 8543
In Person
You can donate by eftpos or credit card at the Charity Hospital reception (open office hours at 349 Harewood Road, Bishopdale) 
By Phone
Phone the Charity Hospital on 03 366 2266 during business hours to make a debit or credit card donation.
Leave a Gift in your Will
If you want to make a meaningful gift to Canterbury Charity Hospital Trust, there is an easy way to do it – just name the Canterbury Charity Hospital Trust in your will. This is not an out of pocket expense that will affect your current standard of living. The money comes out of your estate, after your death. However the gift is going to be given is something you can cherish right now.
Your solicitor will be able to advise you on how to make the bequest. If you make a bequest to Canterbury Charity Hospital Trust, please make it known to us so we can thank you today for your gift to the people in the Canterbury region in the future.
Volunteer
"What volunteers bring is the human touch, the individual, caring approach that no government program, however well-meaning and well-executed, can deliver."
Edward James Olmos
For more information on volunteering for the Canterbury Charity Hospital
Your information is in safe hands with us
All transactions are in $NZ and are 100% SSL secure and encrypted. We don't store your credit card information.
Unsure about donating online? Download your printable donation form here. 
Having problems donating? We are here to help. Please contact rosie@ccht.org.nz or phone 03 360 2266 during business hours.