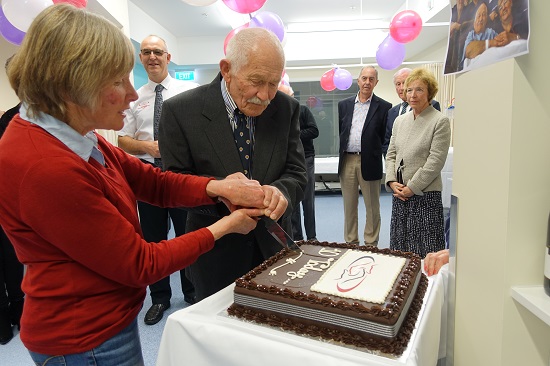 Over 14,000 patients helped as Canterbury Charity Hospital celebrates 10th birthday
If you'd asked Canterbury Charity Hospital co-founder Phil Bagshaw about the future of the new Canterbury Charity Hospital on opening day 10 years ago, he would never have predicted it would grow to encompass three high-tech building developments, two state-of-the-art theatres, oral surgery suites and multiple consulting rooms, staffed by over 300 dedicated volunteer medical and support staff.
"I thought it would only be a low-tech facility. I never dreamed it would provide high-tech services across so many varied areas of healthcare," he says.
Nor would he have dreamed how many Cantabrians in need the hospital and its volunteer workforce would be able to help. To date, 14,337 free patient visits have been clocked up at the Harewood Road facility, providing care to many who are languishing in pain and discomfort, denied assessment and treatment from an under-resourced public health system. All patients have to be referred by their general practitioner or dentist.
Sumner retiree Ross Clapp was the first patient to receive surgery at the Canterbury Charity Hospital 10 years ago today (31 August 2007), with Bagshaw providing Ross with the hernia repair he so desperately needed.
"I am, to this day, eternally grateful for having my surgery at the Charity Hospital. If it hadn't been for Phil Bagshaw and the wonderful team that day, I don't know how much longer I may have waited for my operation in the public system," says Ross.
Bagshaw says local GP's have referred thousands of patients with nowhere else to turn to the hospital.
"What we have done shows there is massive unmet need for hospital-level healthcare. I only wish we could do more and that what we have achieved in Canterbury could spread around the whole country," says Bagshaw, who last year co-authored original research showing that levels of unmet need are large and extend nationwide.
Despite the hospital's desire to do more, what's been achieved already by the country's one and only stand-alone Charity Hospital is truly impressive.
The total of free 14,377 patient visits include:
4950 outpatient visits
2045 oral surgery and dental treatments
1375 general surgery procedures
829 gynaecological procedures
424 orthopaedic operations
331 audio or ear procedures
178 endoscopy procedures
119 ophthalmic or eye operations
63 vascular procedures
3587 free post-quake counselling sessions
Charity Hospital Executive Officer Carl Shaw says none of this would have been possible without the willingness and enthusiasm of local specialists, surgeons, nurses and theatre staff giving generously of their time to help those in need.
Oxford Women's Health gynaecologist Simon Jones is one of many local surgeons who regularly donate their time and skills for free at the Charity Hospital.
"It's gone from strength to strength and the improvements made at the hospital over the years are state of the art," says Simon Jones. "It's a pleasure to work there and I personally find it hugely satisfying".
Phil Bagshaw is keen to also pay tribute to the hundreds of generous donors who've stepped up to support the hospital, as well as the non-medical volunteers who've assisted with everything from reception duties, fundraising, building maintenance and even gardening.
"I'm so proud of how the community has responded. They have generously given time and money in ways that are truly magnificent."
As for the future, Bagshaw says as long as the support continues, the hospital will continue to thrive.
"We'll keep looking for where the public healthcare system is leaving people in need and we will always try to fill the gaps as best we can.
"It remains my hope however, that one day our public hospitals will again open their doors to all those people in need.  If such a happy day were ever to arrive we could close the doors to the Charity Hospital with the satisfaction that we were no longer needed," he says.
Canterbury Charity Hospital at a glance
August 31 2007: Opening of Stage One: The Ron Ball Day Surgery facility (surgery, recovery and assessment)
2012. Opening of Stage 2: Patricia Mauger House (endoscopy suite, counselling offers and dentistry clinic for WINZ clients).
2015. Opening of Stage 3: Major extensions to Ron Ball Day Surgery including a new larger recovery ward, theatre upgrade and improved patient facilities.
2017. Opening of Stage 4: Warner Mauger House (oral surgery, community room and administration offices.
Canterbury Charity Hospital needs to raise $750,000 ($15,000 per week) to cover its running costs.
Of every dollar fundraised, 82 cents goes directly to patient care.